Virtual Decorating
When it comes to
staging a home
or decorating a home, every person is unique. For some homeowners, they are happy to place the responsibility entirely in the hands of a home stager or decorator and let them take the lead on the project. For others, they desire more of a collaborative process. We love to work with both types of homeowners, which is why we offer virtual staging and decorating. It is perfect for our more hands-on clients who are just looking for some guidance.
What is virtual decorating?
With virtual decorating, all of our correspondence with you takes place over phone calls, video calls, and emails. We work one-on-one with you to establish your goals and personal vision for the space, as well as to give you professional guidance that will help you see the project through to completion. We work with you every step of the way. We like to think of it as a collaboration, exchanging ideas with you and helping you make all the difficult choices. First, we have a meeting with you (online or over the phone) where we discuss your goals for the project. To have a clear idea of the space we will be planning, we collect any important details about it such as measurements, lighting conditions, and what elements can and can't be changed. We also find out how you plan to live in the space so that we can suit it to your lifestyle. Together, we'll form the vision for your project and then our team will put together a floor plan arrangement,
furniture selections
,
paint colors
, and even decorative accents that you can then alter as you see fit before committing to them. And of course, whenever you have any questions, we are happy to answer them as best we can. One of the best parts about virtual decorating is that you have the complete freedom to see everything through on your own time table. It is also incredibly budget-friendly, as you can customize how little or how much involvement we have, as well as take your time to implement the design to spread out the costs.
What is virtual home staging?
Virtual home staging is the budget-friendly option to home staging. For more than a decade, we have witnessed the powerful results that home staging produce for homes in today's competitive real estate market. It's simply not lucrative to put your home on the market as-is. To attract buyers and make it stand out among the fierce competition, it's important to "set the stage" and speak to a buyer's psychology. At MHM Professional Staging, we offer every level of home staging to meet all of our buyer's individual needs. We can completely outfit an empty home with furniture and décor or, in the case of virtual home staging, consult with the home owner, real estate agent, or both on how to ready your home for the market.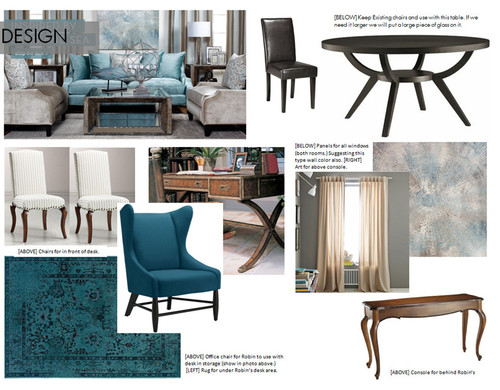 We start by collecting photographs of the home and discussing your goals. Our main objective is to highlight your home's best features. It can be difficult as a homeowner to look at your own home through a buyer's eyes. That's where we come in. Through our years of experience, we know a buyer's mind inside and out and know the best strategies on how to make a home more appealing to them. This usually includes changing around furniture arrangement, de-personalizing the décor, and making the home's color palette more neutral. We will build a customized strategy for your property that you can easily implement. With specific advice tailored to your home, you'll be equipped with a game plan on how to bring out the best in your home and make it more desirable. It's great for DIY homeowners or for realtors to use with their clients.
Does virtual staging work?
We have helped several virtual staging clients transform their homes to great results, selling their homes faster and for more money. Only 10% of homeowners can "visualize" the potential of a home and leaving your home "as is" actually helps sell the competition. Staging your home helps take away the guess work for buyers and makes it stand out from the competition.
Here are some more facts about home staging:
Professional home staging has being recognized by real estate experts all over the world as one of the most important steps in the home selling process.
HGTV says the #1 mistake home buyers can make is NOT staging their home before putting it on the market.
The International Association of Home Staging Professionals says 95% of staged homes sell in an average of 11 days or less and sell for 17% more.
According to a 2015 survey by the National Association of Realtors, 32 percent of buyers' agents believe staging increases the dollar value buyers are willing to offer by 1 to 5 percent and we've personally seen it go as high as 10 percent.
Home staging can fit into everyone's budget thanks to virtual home staging. Contact us today to schedule a consultation.